Transform your Rumba & Cha Cha in just 10 Weeks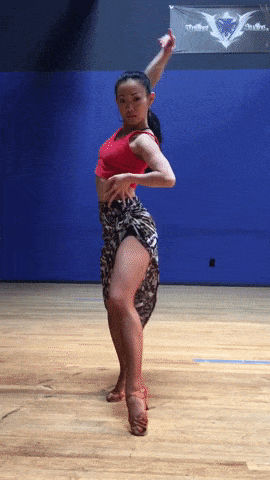 Think about this…
Have you ever taken a dance class and then forget what you learnt?
Do you procrastinate practicing because you don't know what to work on and don't want to "practice the wrong thing"?
Do you have problems counting to music and wish you have a way of overcoming it?
You are Not ALONE!
To help you overcome those problems, I've designed this special
NEW 10 week transformation Program
to help you learn and retain new skills in your International Rumba & Cha Cha, by giving you an easy way to practice because repetition is the mother of skill.
How this Program Works:
Attend the live Sessions AND REWATCH Every Session
Live sessions are held weekly, on saturdays starting January 15th, 2022. There will be a q&a session at the end of each session.
All live online sessions will be recorded for you to rewatch throughout the series.
Each session recording will be posted 24 hours after the session. And it won't just be a crappy fuzzy looking zoom recording. It'll be a high resolution video that you can slow down, and rewatch over again as many times as you like.
BONUSES:
1. You get a weekly practice plan
You will get a weekly summary of the session highlights, along with a digital practice plan for that week.
SAVE TIME & Get to your practice:
Instead of having to watch the entire session over, or search for parts to practice, we'll organize the drills and routines for you, into an easy to access practice video playlist.
RESULT: You get more focused practice with LiWen as a role model, to build your skills. No More Procrastination!!
2. Learn to Count Music
The problem with counting music by yourself is that you have no clue if you're counting it right!
This is our very unique system where you'll learn how to count music, and know when you are right or wrong. You'll learn to count to a variety of different songs. New songs will be added each week.
3. Keep using this program for additional 3 months after the last live session.
You cannot hear a lesson just one time and expect to know it all, much less do it all. Therefore, you will have unlimited access to this entire program and its bonuses for an additional 3 months after the last live session is over. This way, you can keep repeating the skills you learnt till they become natural and part of your dancing.
Course Content
Total learning:

17 lessons
Time:

24 weeks