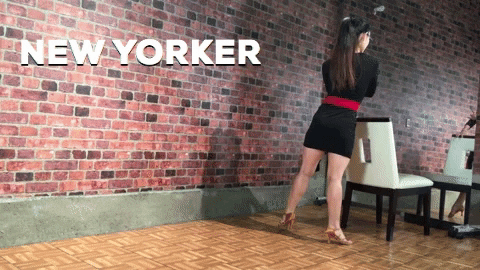 THE NEW YORKER.
Why is this the only step named after a big city? We in San Francisco, deserve our own step too! That aside, can you guess why it's called the New Yorker? An easy social step, you can dance the New Yorker pretty much everywhere (Cha Cha, Samba, Rumba, Jive, Paso, Salsa…). But making it look awesome, well……. that's what we're here to do! I've broken down the New Yorker step into 4 different sections, so you can practice the dance technique for each part correctly and slowly, before you put it all together.
PS: Leave me a comment below for steps you'd like to see broken down! Or whether my glasses are sexy or nerdy. 🙂 It's my Architect alter-ego.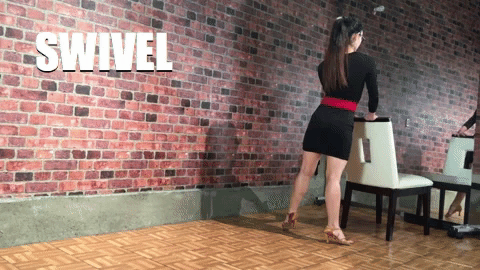 Practice Tips:
1. Swivel on the ball of your standing leg for a 1/4 turn. (i.e.: this means that heel of the swiveling foot is slightly off the floor)
2. Bring Ankle of the free leg to close with the ankle of standing leg.
3. When your ankles are together, make sure your feet are turned out.
Bonus: Improve your turnout with these:
5 Minute 5 Exercises to Improve Your Turnout For Latin Dancing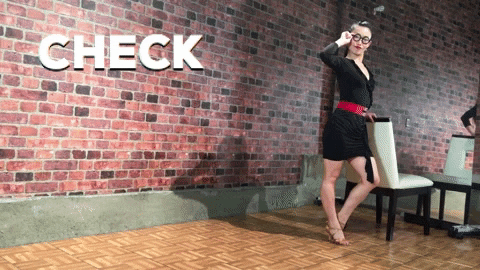 Practice Tips:
1. Keep your toes stroking the floor.
2. Lower the front foot using toe, ball, heel action – to articulate your foot.
3. Back heel lifts off (with turnout) as your knees touch.
4. Keep your body weight split between both feet.
Bonus: Improve your Leg Action with these:
5 Exercises 5 minutes to Get Sexy Leg Action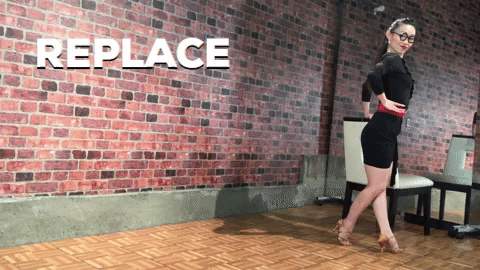 Practice Tips:
1. Push off your front foot to transfer your weight onto the back leg.
2. Lift your front heel off the floor and stretch your toes, while keeping the knee straight.
3. Stretch your spine (to avoid arching your back).
Bonus: Improve your Leg Action with these:
5 Minute Ankle & Feet Builders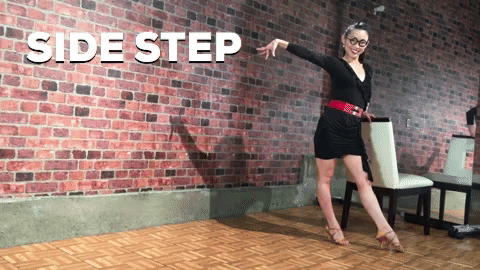 Practice Tips:
1. Bend the knee of the passing leg to move the foot.
2. Keep the moving foot in contact with the floor.
3. After you transferred weight to the side, turn out the free foot/leg/hip (and tongue,… says Tytus from a different planet).
Exercise #5: Put it Altogether - The New Yorker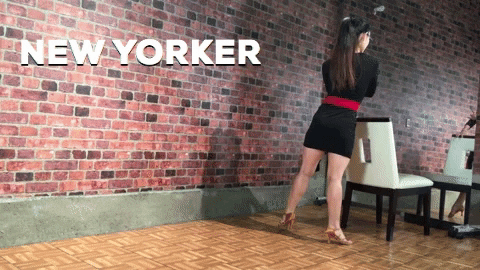 Practice Tips:
1. Complete all the actions that you practiced in all four exercises above.
2. Take it slow and pay attention to your feet, knees, weight placement, turnout, hip rotation, head etc.
3. Counts:
Swivel – And
Check – 2
Replace – 3
Side Step – 4
Dance the New Yorker to the right and to the left. 
Finally, how do you practice and get good quickly?
Deliberate practice is key. Take a quick video of yourself doing the individual exercises and then see if you can correct yourself. Learning how to dance the New Yorker correctly, can build leg action, turn out, and hip rotation. Start to build awareness and  notice what looks right or wrong in your movements. These self corrections are key to being a great dancer… and of course, having insanely fantastic, knowledgeable, brilliant, energetic, sexy, good-looking and very humble teachers help too! 😉
If you like the New Yorker, check out these videos: