If I don't get sweaty after I've done a hardy workout, I would feel so ripped off! That's why I'm sharing these 5 exercises guaranteed to get your heart pumping, your body burning and have you smiling and glowing! These 5 exercises are not only cardiovascular, but also provides strengthening for your entire body.
​
For this workout, you will do only 1 set of each exercise, then repeat all 5 exercises again once through!
Exercise #1: Row The Boat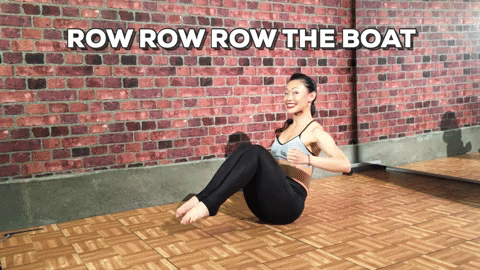 1 set of 15 reps.
(1 rep = low boat into high crunch)
​Benefits: Strengthens Upper & Lower Abs + Engage Back Stabilizers
​Tips:
1. Start by lying flat on the ground, then lift legs and shoulder off the floor (low boat position).
2. In low boat position, try to keep your lower back flat against the floor.
3. The lower you keep your legs in low boat position, the more your core has to work.
4. Keep your Back Flat as you pull your body up (high crunch position).
5. Engage your core to pull your knees in (high crunch position).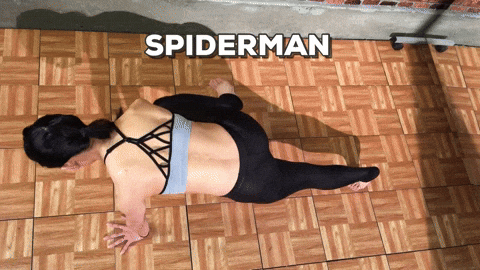 1 set of 10 reps. (1 rep = right knee up + left knee up)
​Benefits: Stability in upper and lower back, shoulders, core and glutes. 
 
Reduce Intensity Modifications: 
A. Put both feet down, then switch feet.
B. If your knee doesn't touch your triceps, just bring it as far up as you can/ into your belly button.
Tips:
1. Start in Plank position – placing your hands under your shoulders, with elbows slightly bent. Legs straight and feet apart.
2. Keep your neck relaxed and eyes looking straight down at the floor (not at your feet).
​3. Keep your butt in line with your shoulders.
Exercise #3: Pushup and Fly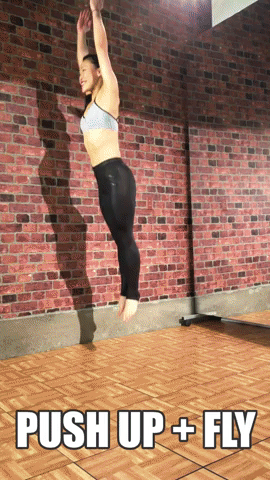 1 set of 10 reps. (1 rep = Push up, and Jump)
​Benefits: Full Body Strengthening & best exercise for getting your heart pumping!
Reduced Intensity Modifications:
A. Take out the push up
B. Do a modified push-up with knees on the floor
C. Take out the jump, just stand up and reach your arms high overhead
​Tips:
1.Keep it moving!!!
2. This is a hard one, so if you need to take a break in the middle or do less reps, do it!
3. Listen to your body, and if you need to do one or all the modifications, or skip this exercise entirely.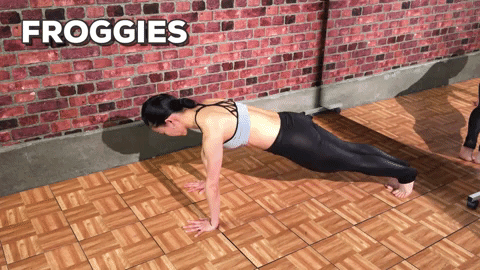 1 set of 10 reps. (1 rep = Plank + Wide Leg Jump in (Froggy Jump) + Plank + Feet Apart Jump)
​Benefits: Full Body Strengthening & Great for Building Core Strength
Reduced Intensity Modifications:
A. Take out the Froggy Jump
B. Instead of Jumping to Feet Apart, Tap Right then left foot apart.
​Tips:
1. Engage your core before you jump to Froggy.
2. Keep a micro bend in your elbows.
3. Best to do this on a soft/ cushioned floor (i.e.: Carpet or use a mat)
Exercise #5: Knee Up Lunges
2 set of 10 reps. (1 rep = Lunge Back, then knee up)
1 set for each leg.
​
Benefits: Strengthen your Glutes, Quads & Hamstrings. Improves Balance.
Reduced Intensity Modifications:
A. Instead of Knee up, just tap the leg in front of you.
​Tips:
1.Keep your front knee behind your front toes when you lunge.
2. Press Ball of back foot firmly into the floor in lunge position.
3. Engage your core before you transition from lunge position into knee up.
4. Pause for a second in knee up position.
5. Keep your arms strong to help you move from position to position.
When to do this workout:
Warming up before a different workout
5 minute burn before a meal
When you wake up in the morning
Quick burn during strength training
What is challenging? Did you get sweaty? Which part of your body are you working on strengthening?
Share your thoughts with us below!