Say "NO MORE" to tight hips! These 5 gentle hip stretches are my favorites. Because I too have tight hips and these stretches help soooo much opening up those joints and you will also find improved mobility in your back and knees. Don't worry, these stretches won't make you a hippie, nor will they suddenly make you attracted to tie-dye garments. 😉
Reminder: Always be gentle with your body. Only go as far as it feels comfortable and don't push into a stretch. It's important to warm up prior to these stretches – you can do a gentle jog in place for a few minutes and/or these 5 minute turnout exercises. 
Hip Stretching Exercise #1: Butterflies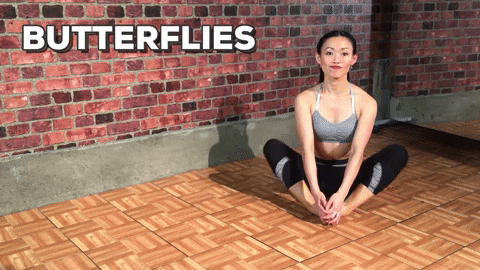 1 set for 60 seconds
​
Tips:
1. Keep your back straight.
2. You can hold on to your feet or put your hands on your knees (whichever is more comfortable).
3. Flutter your knees up and down. You can start slower, then pick up the pace.
4. Treat this more as a warm-up for the following exercises.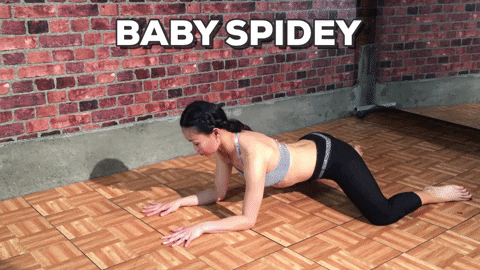 1 set for 60 seconds
​
Tips:
1. Keep your belly engaged.
2. Plant your arms firmly on the ground.
3. Start with your thighs in line with your hips.
4. Keep your feet apart.
5. Rock gently back and forth. No stress!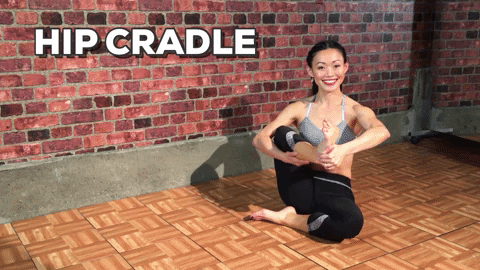 2 sets of 30 seconds
One set per side.
​
Tips:
1. Sit up tall with your butt cheeks smooching the ground.
2. Pick your shin up with your arm and hold onto the foot with the opposite hand.
3. Use your arms to rock your leg side to side.
4. Flex the foot you are cradling.
5. Keep your butt rooted on the floor.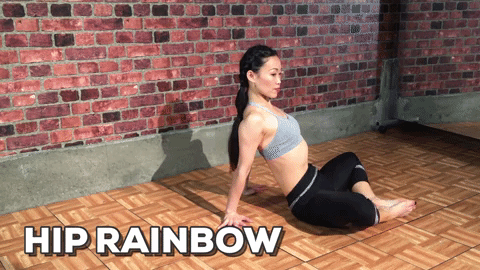 1 set of 60 seconds
​
Tips:
1.Keep your back straight.
2. Fan your knees side to side, feeling rotation in the hips.
3. Keep the movements smooth and gradual.
Exercise #5: Hips on Rocks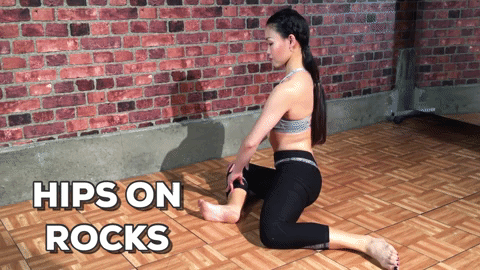 2 sets of 30 seconds
One set with left leg in front, one set with right leg in front
​
Tips:
1. Sit up tall with the front foot flexed.
2. Keep front butt check glued to the floor.
3. Rock your hips so that your other butt check kisses the floor.
A final word about Hip Stretches:
Always be gentle especially when trying out these hip stretches for the first time. It's preferable for the body to be warm when doing these. You can combine them with these other 5 minute workouts and use the hip stretches here as a cool down routine: